Year In Review – 2020 Expenses
This is the continuation of my 2020 year in review series. See my previous post if you missed my returns report. As you probably already know, I maintain two set of expenses — one for monthly expenses and another for annual expenses. The monthly expenses include expenses that occur more frequently than once a year and the rest of the expenses go into annual expenses. Lets dive deeper into the report.
Monthly expenses
I have allocated a monthly budget of Rs. 56,000 for the year 2020. Below is the consolidated view of my budget, the actual expenses incurred on average per month, total expenses over the year and what is left out of the budget for each line item.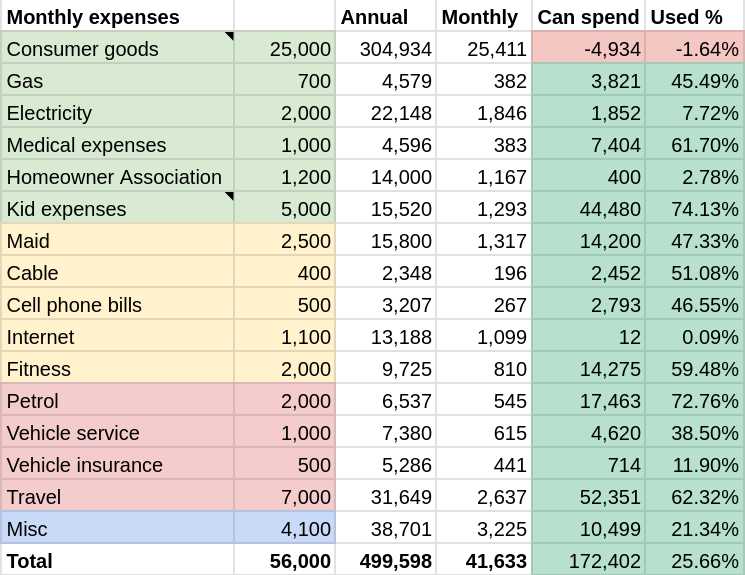 The expenses were Rs. 41,633 on average per month against the budgeted amount of Rs. 56,000. Much less than expected. This is better than the 2019 expenses of Rs. 42,871 per month. The main reason being COVID which single handedly reduced travel expenses. The vehicle insurance went down from last year because we got rid of one car. However one item that went over budget was food which is expected since the whole family was at home and we experimented with different tastes :). During various months the expenses ranged from Rs. 30,000 all the way to Rs. 50,000.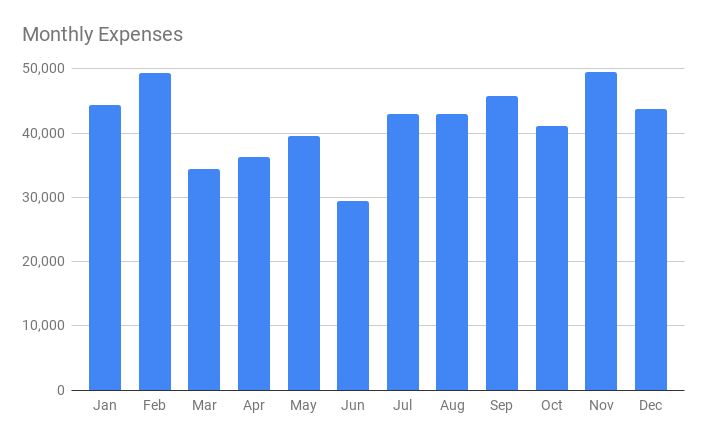 Splitting the expenses by category, the most expensive category seems to be food at 61% of the budget which is about right. Utilities and services (gas, electricity, cable, internet, maid, cell phone bills etc) are 15% which is the same as last year. Travel and miscellaneous expenses make up for another 7.5% each. Kid expenses (toys, karate class, books etc) stood at 3%.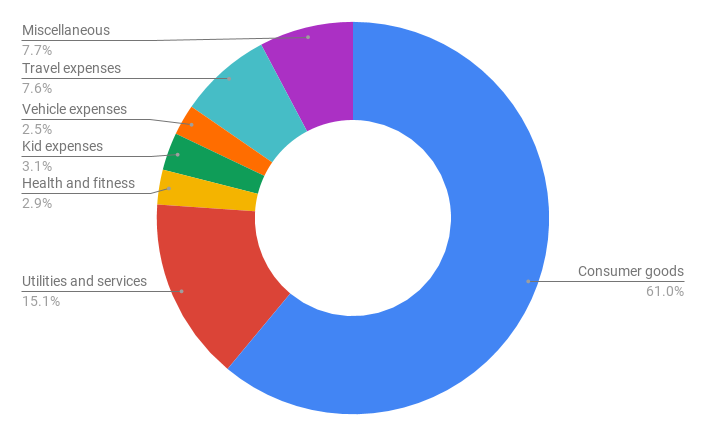 As usual, I am going to inflate my budget for this year by 6%. So for 2021 my monthly budget is Rs. 59,000 as compared to Rs. 56,000 last year. I increased the budget for food because that is where we went overboard in 2020.
Annual Expenses
My budget allocation for annual expenses in 2020 was Rs. 3.60 lakhs. And I spent about Rs. 2.85 lakhs. The main expense this year was advance tax. Thanks to the payment from Franklin's Vodafone segregated bonds I had to pay a huge tax.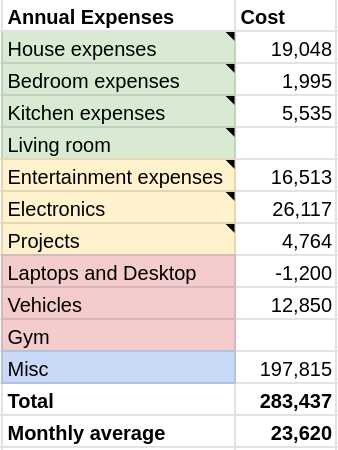 The house expenses are mostly property taxes. Entertainment expenses are mainly in thanks to the lightening strike related damages. I had to buy a few electronics to bring back my 5.1 amp, wifi router etc. We bought a couple of wireless ear buds, an SPO2 watch, a 10" tablet for my daughter and a phone for my wife which all went into the electronics expenses.
The project expenses are all related to the drip irrigation setup (drips, electronics etc) and running this blog (compute engine, domain etc). We replaced our car tires which are the vehicle expenses. Finally as I explained before, miscellaneous expenses includes advance tax and some other expenses which don't fall in any other buckets (gifts, donations etc).
Conclusion
That pretty much summarizes my expenses for 2020. I was spending an average of Rs. 65,000 per month (combining the monthly and annual expenses together). I increased the monthly expense budget to Rs. 59,000 per month for this year. No change in the annual expenses budget which remains at Rs. 30,000 per month. The reason I publish my expenses is two fold. One I can review and understand where I am spending. Two, it will help others figure out what their post-retirement expenses could be if they were in a similar situation as mine.
Leave a comment