Experience with TyresNmore - A Tyre Replacement Service
My Maruti alto car was manufactured in 2007 and the tyres have been the same since that time. While the tyres haven't worn out quite as much, they have become hard and brittle. One of the tyre's rubber gave way on a ride. Thankfully we weren't too far from home, so we just drove slowly and reached home. This was before the COVID pandemic. So we had lots of options to have the car fixed. We do have road side assistance on our car insurance, so could have it towed to the nearest Maruti service center and have the tyres replaced. But I wanted to try something different.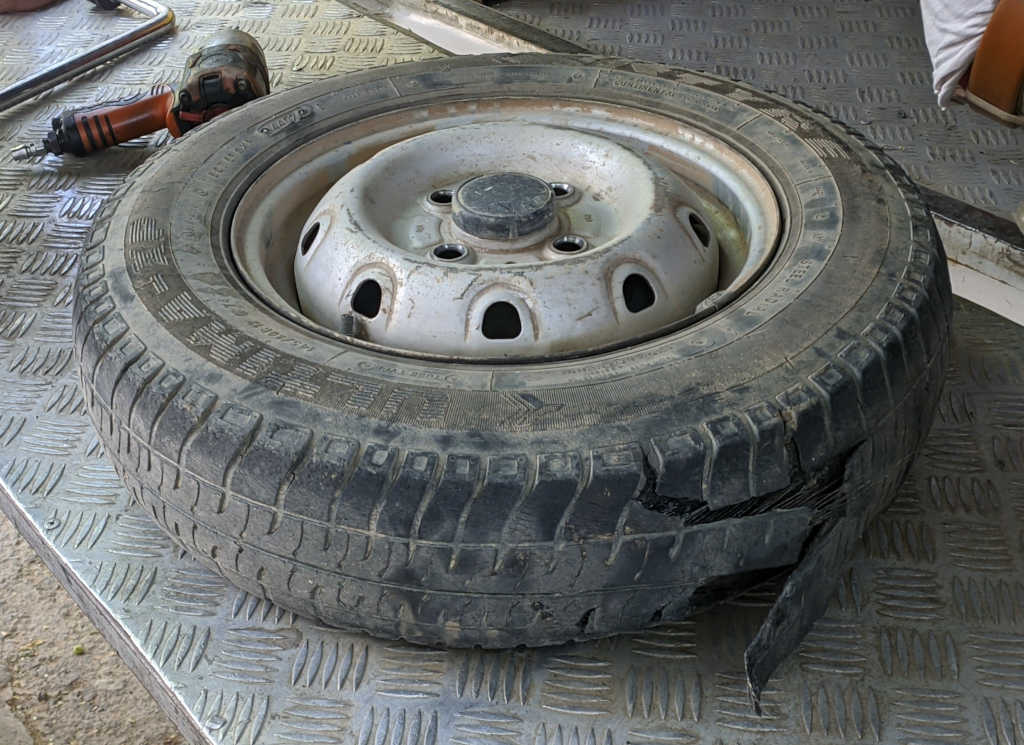 I called up the service center and found out the cost of the tyres. They quoted Rs. 17,000 for the tyres and repair work. The same tyres were selling for about Rs. 2500 per tyre on Amazon. So the total should come out to around Rs. 12,500 for the 5 tyres. I wondered if I could buy the tyres online and have a local mechanic replace them. As I continued searching for local mechanics, I came across TyresNmore. They not only sell tyres online, but they even change the tyres at your doorstep. Sweet!
Tubeless or tube tyres?
My car uses the older tube tyres. I wondered if I can replace them with tubeless tyres. There are several advantages of tubeless tyres. To start with, they are cheaper to buy and repair. Since there is no tube, the tyre need not be removed from the rim to repair punctures. More importantly, tubeless tyres are safer because they they don't lose air suddenly in case of a puncture. Air loss is gradual, so one can drive slowly to the nearest puncture repair center.
I read a lot about replacing tube tyres with tubeless tyres. From what I gather, if the rim is in perfectly good shape and has no rust, then it is safe to replace them with tubeless tyres. Otherwise there is risk of leaking air from the sides of the rim. Given that my car is so old I was not sure about either the shape or rust inside the rim. So I decided to go with tube tyres.
Ordering from TyresNmore
The process of ordering tyres from TyresNmore was pretty simple. All I had to do was search for the tyre size I require on their website and place an order. They provide an option to replace tyres at your doorstep. I placed the order at 10 am and I received a call from them with in 30 minutes. They confirmed the tyre sizes and my address and the truck arrived by 11 am! Talk about fast service.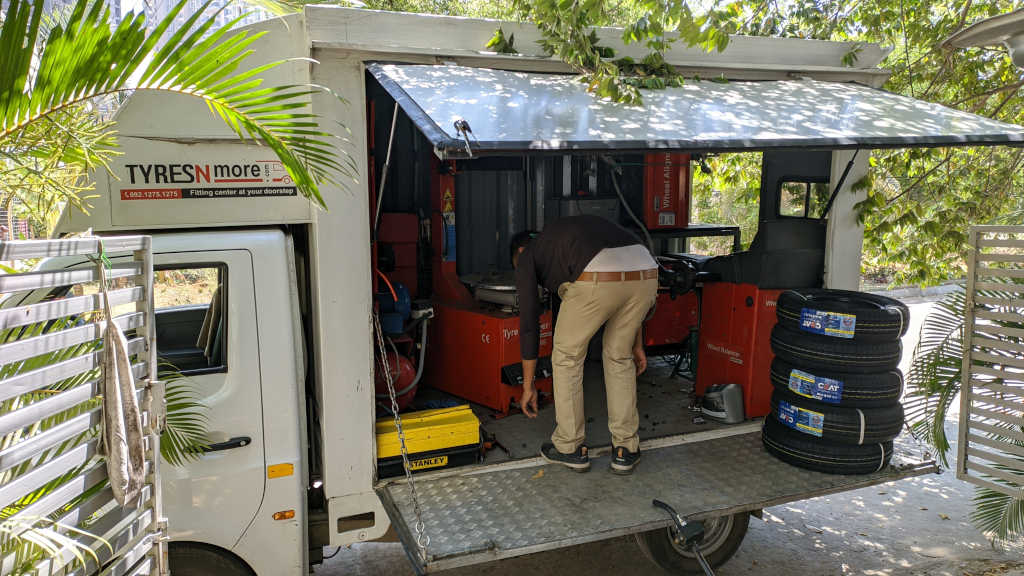 Tyre changing process
They had tools for everything like you would find in a service center. Except that they are on wheels. They used a pneumatic lift to lift the car up and removed the tyres.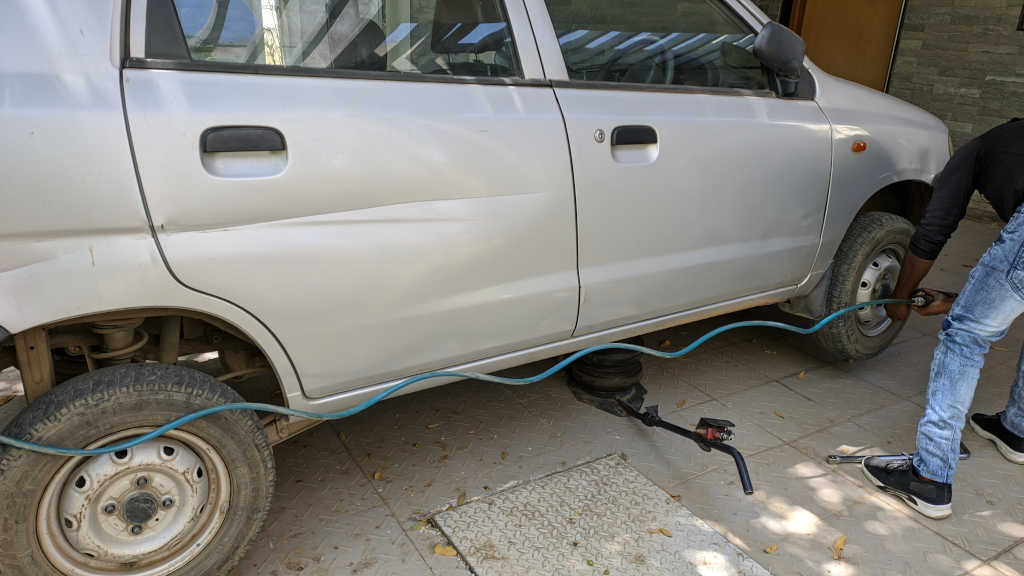 While one removed a tyre and handed it over to another person, the other fellow used that time to replace the tyres. He would put the tyre in a contraption aptly named the tyre changer which removes the old tyre from the rim. Next he used the same machine again to put a new tyre on the rim.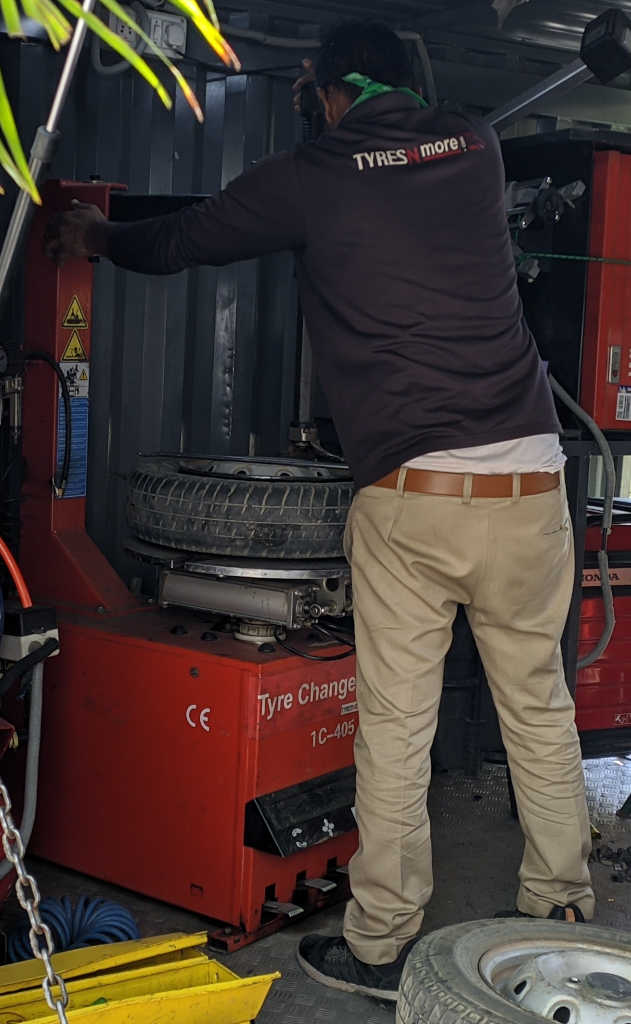 TyresNmore service personnel operating the tyre changing machine
The final step after replacing the tyre on the rim was to balance it. There is a machine for that too in the truck. He spun up the tyre, checked the imbalances on the machine and put the balance weights on the rims. Checked again and all done.
Finally the brand new tyres are installed on the car. The whole process took just 30 minutes. I opted for cash on delivery, so used my card at the end of the service. Total bill came out to Rs. 12,849. Here is one more thing that goes into my annual expense.
Experience and conclusion
I did not know that the technology has advanced so much that one can have pretty much anything serviced at home. Overall I had a great experience. The process was seamless. Everyone was professional and quick. I checked the dates on the tyres and most of them were pretty new (under 6 months), except for two which were almost a year old. That was the only not so good part about the experience. But even if I gave it to a service center or ordered online, I am not guaranteed to get the newest tyres.
They also had wheel alignment, but they opted out of doing it. When I asked them why they did not do it, their response was that the wheels must have been aligned properly otherwise my old tyres would have worn out unevenly. Now I don't know much about that aspect, so I had to go with their word.
I also asked the person if going with a tubeless tyre was a possibility. He said that given the rims are so old and slightly rusted, it would not be a good idea. Even with proper sealant he has seen cars leaking air. Good enough to convince me. Now I have a set of brand new tyres and I have nothing to worry for another 10 years! The ride quality, cabin noise and electronic steering performance have all improved.
Leave a comment