As you already know, I recently purchased a budget gaming laptop – Acer Aspire 7 with Nvidia GTX 1650 graphics card. I really did not need a gaming laptop because I barely play games anymore. But the deal was so good compared to a similarly spec'ed laptop without the graphics card, that I could not pass up the deal. It's been only 10 days since I have the laptop under my possession, but that does not deter me from writing a review. If you are also looking to buy this laptop, this post might help you in making a decision. If you are not planing to buy one and are still reading, you might be here to pass some time. Either way have fun.
As I mentioned before, I did not really need a gaming laptop. I was planning on building a good desktop gaming PC for gaming needs and keep the laptop lightweight. But given today's soaring GPU prices, thanks to crypto mining and chip shortages, I felt like this is an awesome deal. Paying MRP is already a bad idea when buying things, and paying a premium (for the GPU) is just criminal.
Specifications
I will be making a lot of comparisons to my previous laptop which is a HP envy 15t 2016 model. Before I compare the two, it is probably good idea to show the specs side by side so you have something to go by.
| Acer Aspire 7 | HP Envy 15t |
| --- | --- |
| AMD Ryzen 5500U | Intel Core i7 7500U |
| 6 cores, 12 threads | 2 cores, 4 threads |
| Nvidia GTX 1650 | Intel HD 620 |
| 512 GB NVMe SSD | 256 GB NVMe SSD |
| 8 GB 3200 MHz DDR4 RAM | 8 GB 2133 MHz DDR4 RAM |
| 48 Whr battery | 52 WHr battery |
Most other things remain the same.
Build quality
The laptop is made out of hard plastic. So compared to my previous laptop which has a metal build, it is a downgrade. I am sure it will get scratched if I don't take adequate care. But the flex is comparable to my previous laptop which means it is quite good. The upside to having a plastic build is that it is not cold to touch. That also means the cooling system will have to work extra hard when the laptop is running at full throttle. You see, there is no metal body to dissipate heat over a large surface.
The look and feel is subjective but I don't have any complains about the build. In fact I like the black plastic to the shiny metal body of my previous laptop. it is slightly thicker though. And if you are wondering, yes you can lift the lid with one hand, well sort of. The bottom lifts up a bit before falling down after you have lifted the lid half way through. It is no where near the hinge quality of MacBooks which are engineered to perfection. But my previous laptop wouldn't even open with one hand :). I rarely need this feature, but just letting you know. There were a few occasions when one of my hands are full and I needed to open the laptop, but that is all.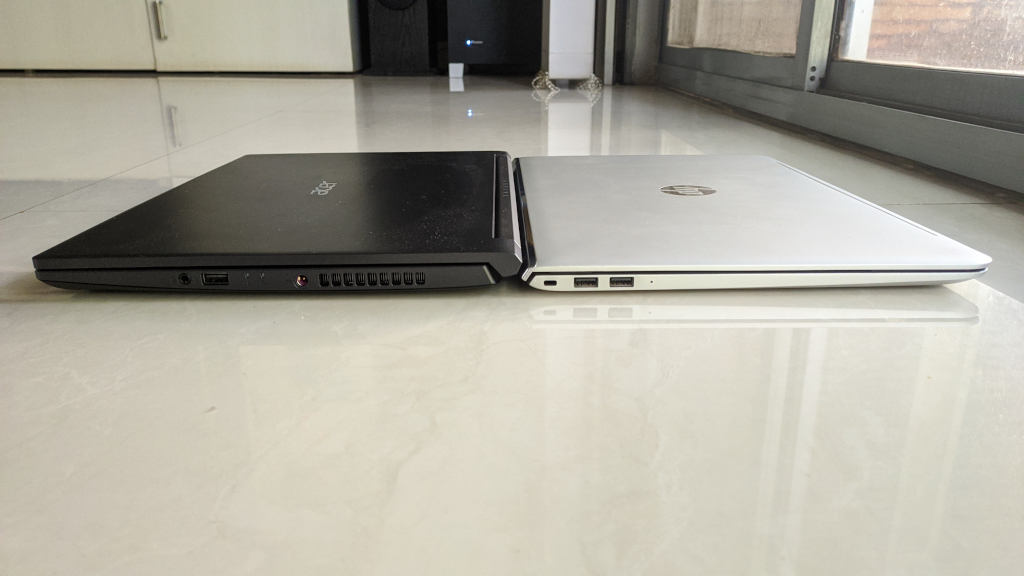 The new laptop is thicker than my previous one, but only slightly
Display
The display is average just like about every budget laptop including my previous laptop. The display panel covers only 45% of NTSC color gamut which is exactly the same for both laptops. The bezels are thinner all around except at the bottom. The top bezel could be thinner too, but I am not complaining. I noticed that the colors are a little warmer on the new laptop which I like. They look a bit more natural than a cool color.
While both panels are rated for 250 nits of peak brightness, I noticed that Acer Aspire looks more bright at full brightness. Acer Aspire also has a matte finish which reduces the reflections but also reduces the contrast. So while my previous laptop displays more colorful images, I always hated the reflections. One downside I noticed with the new laptop is that the brightness does not go low enough. In complete darkness, the display is too bright for me.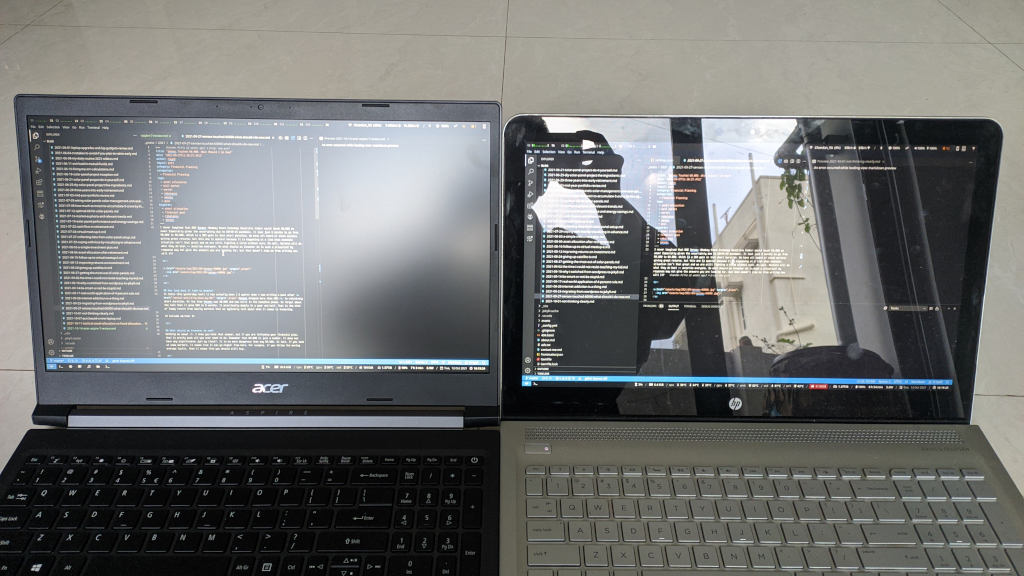 The new laptop is brighter and less reflective and hence is more readable than my previous one. But the previous laptop has better contrast.
Keyboard
The keyboard is pretty good. I enjoyed typing on it. The keys are not soft and squishy and bounce back quickly. Although the key travel is short, it is not as short as the butterfly keys of MacBooks though. The key travel is certainly less than my previous laptop, but I did not have any difficulty getting used to it. One problem I faced is with the num pad. The keys are all squished and not a square shape. And all the top row keys after function keys are placed differently than my previous laptop to accommodate the power button. I am not sure I understand why they power button couldn't be outside of the keyboard layout. So I keep pressing the wrong keys. I guess I need a little bit of getting used to it to retrain muscle memory.
Another problem I am facing is that I press the airplane mode by mistake because the key is right next to the brightness keys. So sometimes when I try to lower the screen brightness, I accidentally press the airplane button and it turns off my wifi and bluetooth. Likewise, when I try to turn on the keyboard backlight I accidentally press the "disable touchpad" button right next to it. Then I wonder why the trackpad is not working. I guess this is a useful feature when you are playing games because you don't want accidental touches, but for me it is a bother. Finally the keyboard does not have a light for caps lock or mute. My previous laptop had both those lights.
The keys are backlit and so in the night there is no problem finding the right key. There is only one level of brightness which is the same as my previous laptop so nothing to complain there. Somehow I preferred the lighting and keyboard of the my previous laptop though. With all the things I said about the keyboard it is a sort of downgrade, but does not affect me much since I use an external keyboard anyway. One really nice feature of the new laptop though is that if you turn on the keyboard backlight, it turns off automatically after some time if you don't use the keyboard. And turns on automatically when you start typing again. Saves battery.
Touchpad
The touchpad is decent given that it is a precision touchpad. Finally I can configure Windows 10 to not use the stupid natural scrolling that Mac introduced without having to edit windows registry. However I noticed that the trackpad is not as responsive in Windows. May need a driver update or something. No worries, I anyway use linux except for when I am gaming. Moreover I use an external mouse. I also wish the trackpad was wider, but nonetheless it is as good as my previous laptop, so nothing to write home about.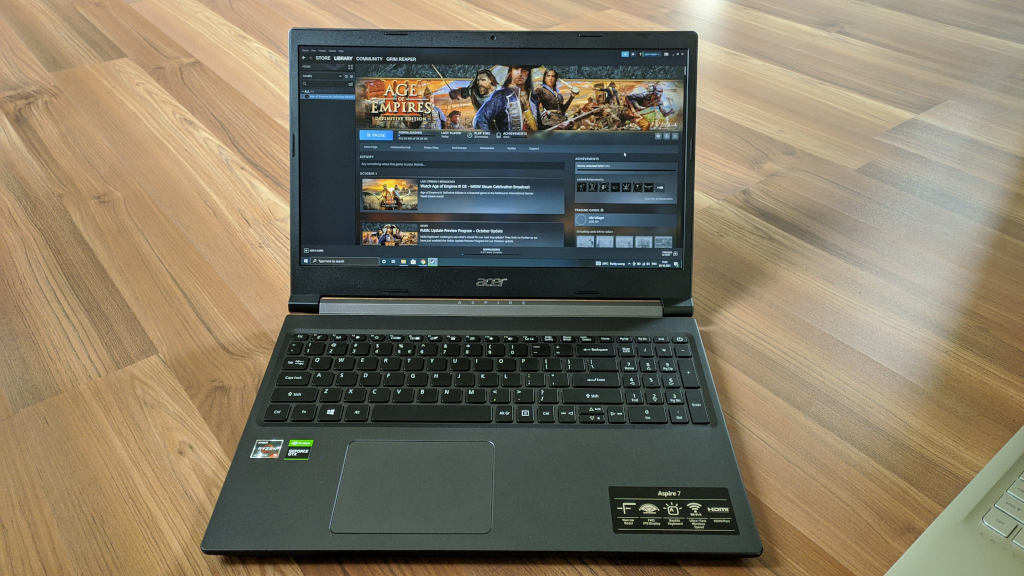 Battery life
This has been my biggest worry when I purchased the laptop. The CPU is a Ryzen U processor which means it runs at a lower TDP and hence consumes less power and produces less heat. Less heat also means fans can run at a lower speed thus saving even more battery. But my concern has always been Nvidia GTX 1650 which runs at 45W TDP as configured. Thankfully, I had great battery life when the discrete GPU is turned off.
As I mentioned before, I only use Windows for gaming and no one really checks battery when running games. I checked the battery life under linux and it is very much comparable to my previous laptop. I get about 6 to 7 hours under light load (browsing, coding, writing this blog, youtube and some minimal compiling). With moderate use I get somewhere between 3 to 4 hours and that is good enough for me. A longer battery life would not hurt, but it is rare to find bigger batteries on these thin and light laptops.
Performance
I divided the performance into several sections.
3D mark
Acer Aspire 7 got an overall score of 3712 with a GPU score of 3450 and a CPU score of 6525. The CPU score is amazing and off the charts for my work! GPU score is alright. A 5000 would be a decent gaming GPU score, but for a casual gamer like me that should do. Running the same tests using only integrated vega 7 GPU (which is quite powerful compared to my previous laptop) I got a GPU score of 1182.
Now compare that with the overall score of 365 for my previous laptop. The GPU score was a paltry 321 which is 3.5 times as slow as the integrated GPU of my new laptop and a whopping 10 times as slow as the dedicated GPU. The CPU score was 1768 which is more than 3.5 times slower than my new one. So this is certainly a big upgrade.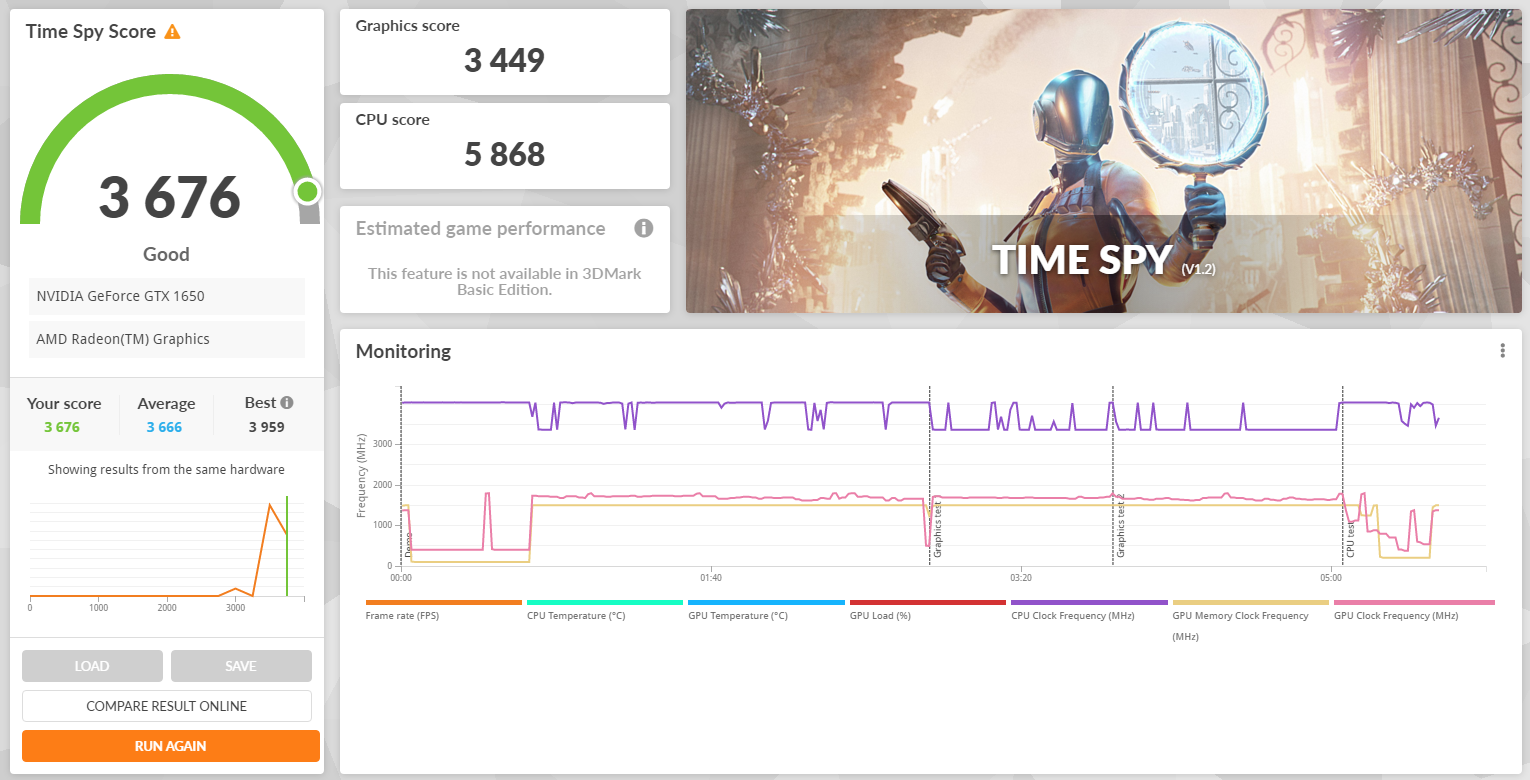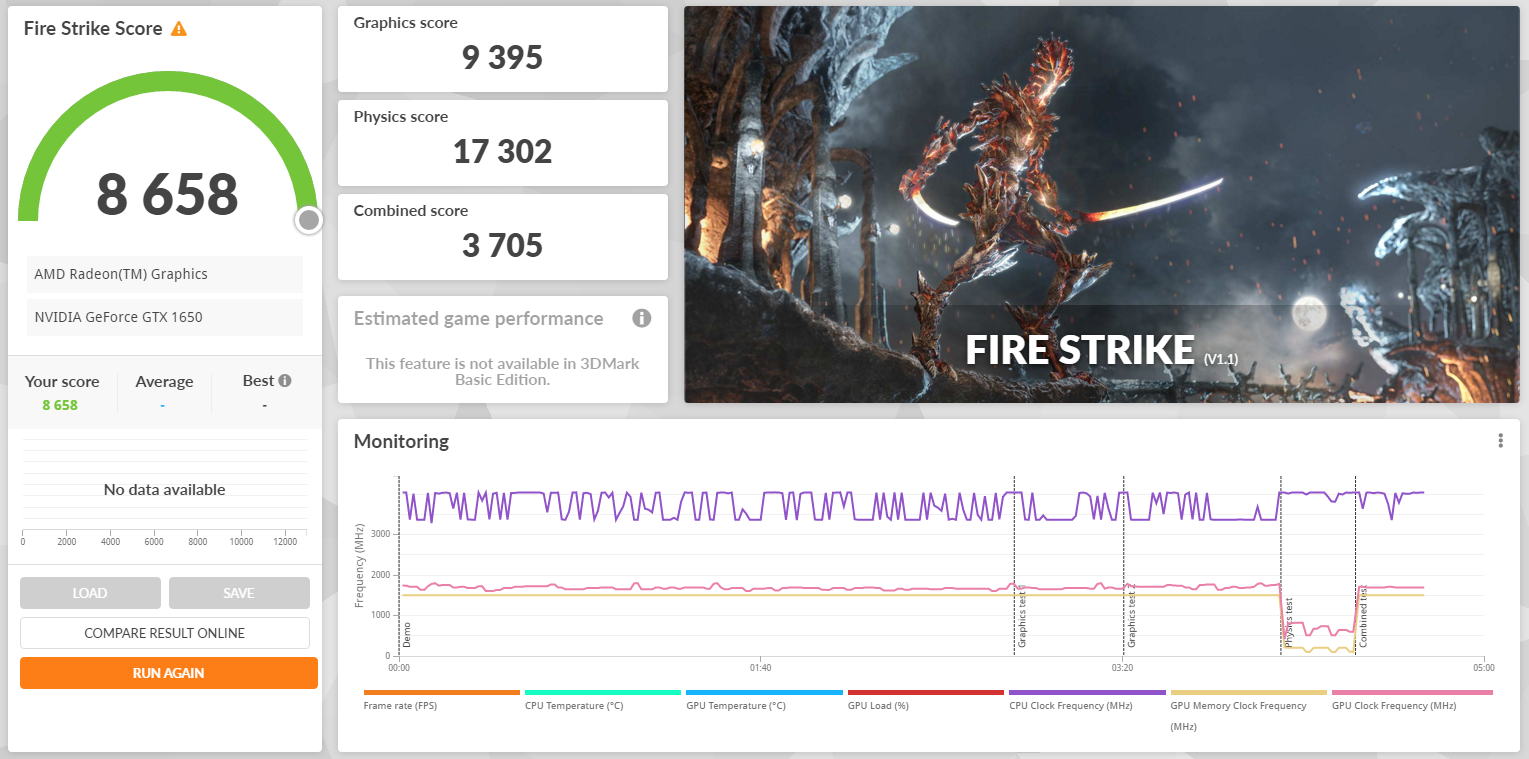 WegGL aquarium
Again in the webgl aquarium test the new laptop surprised me. At 20,000 fish, the old laptop was barely giving 20 FPS, while the new one was running at around 58 FPS using integrated graphics.
Crystal disk mark
The SSD in my old laptop was already plenty fast, but the newer one is even better especially with write speeds. Let the numbers speak for themselves (see below).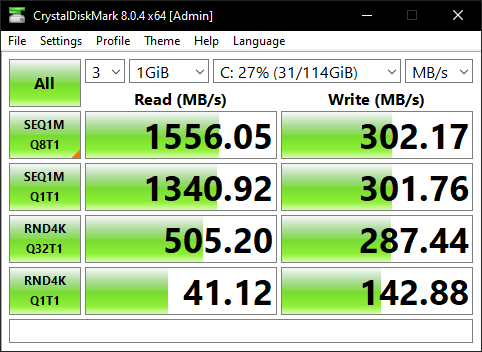 HP score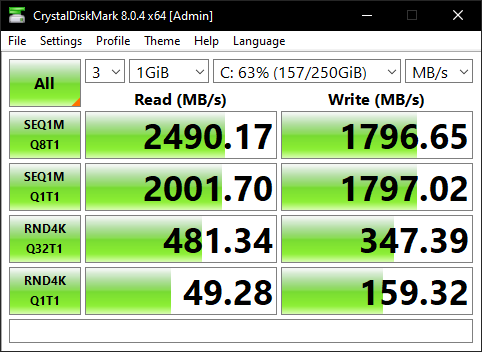 Acer score
Beyond all the benchmarks, the laptop is quite fast in all aspects related to multi-threaded load. So compiling code is a breeze. But I know in a couple of years this very same laptop will feel slow :).
Other benchmarks
Here are some other benchmarks that I ran on my new laptop but not in the old one.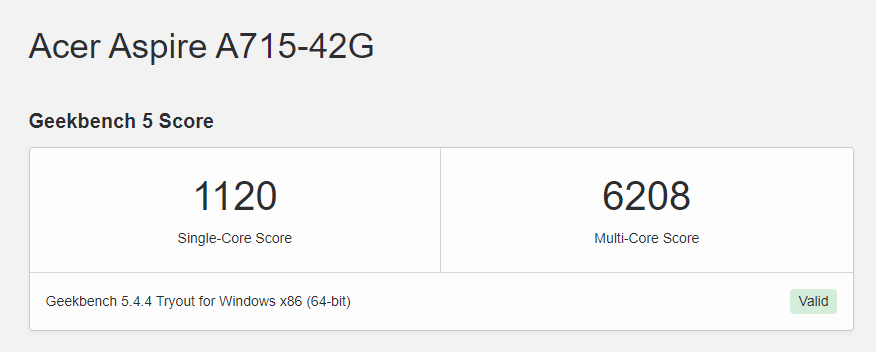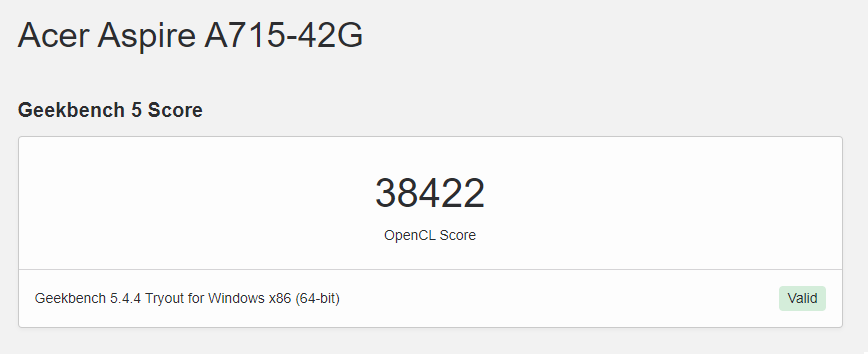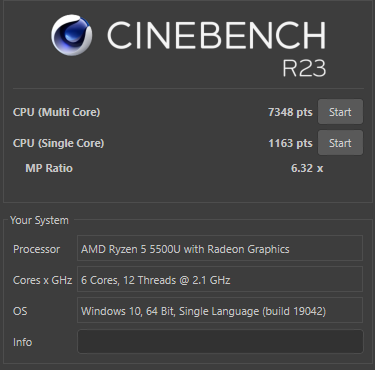 Conclusion
Overall I am quite happy with the purchase, but there are always better ones that money can buy. I am enjoying playing games on my new laptop. In fact, I started playing games more now a days. It took some time to install Linux on the machine and to get everything organized the way I like. More on installing Linux in my next post.
Leave a comment