Where is the Stock Market Heading?
While I don't predict where the markets are headed, I sure do enjoy the news and commentary which do. Some headlines attract my attention when I am reading the daily news. I email myself those interesting articles which predict Sensex or Nifty to touch a certain level by a certain date. Then I snooze the email until that predicted data. If you didn't already know, gmail has this nifty (no pun intended) little feature which allows an email to be dismissed from your Inbox only to magically reappear on a certain date. I use it quite a lot. So in the past few days I have been receiving these emails from the past. Did their predictions pan out? If so, should we have acted on those predictions back when they were predicted? Lets find out.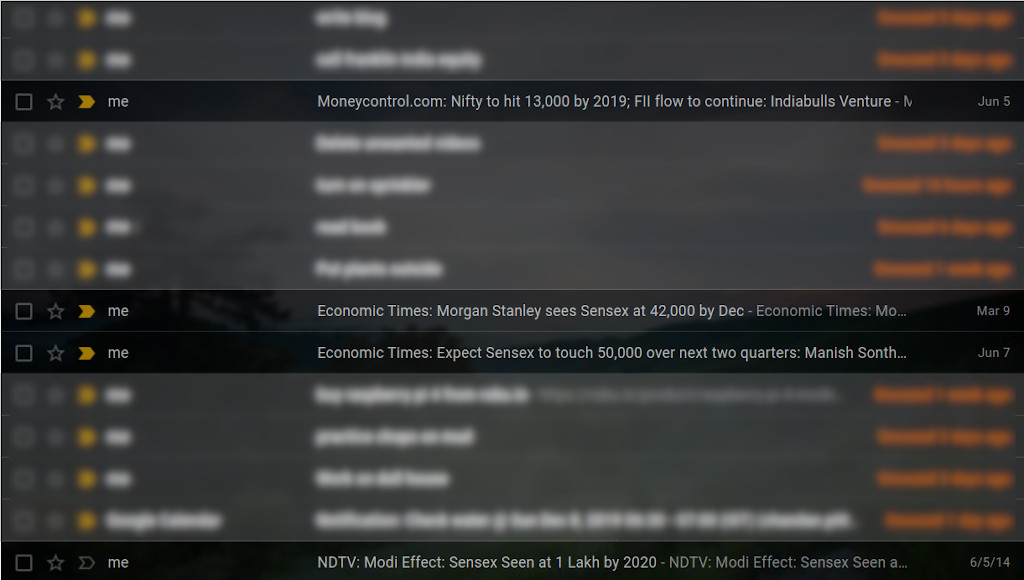 The earliest prediction came from this one, which predicted that Sensex could touch 42000 in the base case by December 2019. The prediction was made in December 2018. Well we almost hit that target. That is great! A prediction made a year ago came out to be true. But wait, the article did not say Sensex will hit 4,2000 for sure. It was more like, Sensex can be anywhere between 33,000 to 47,000. So last year around this time, you should basically figure out for yourself if the market will go up or down in the next year. A monkey throwing darts can predict market with as much accuracy. Morgan Stanley's prediction could not be held wrong whether the market went down to 33,000 or up to 47,000. That is a wide margin for one year prediction. But what did you do? Did you bet a bear or a bull run? I bet on a bear run and I failed.
Another prediction from January, 2019 expected the stock to not touch 40,000 by the end of the year. Well, we did touch 40,000, but did not go much beyond that. So I guess that prediction was also true. They predicted a range of 32,300 to 39,800 for Sensex during the year and it is fairly accurate. Now should I follow this author for future predictions? I don't know. Morgan Stanley in another prediction in March 2019 expected Sensex to touch 42,000 by December, which came out true (more of less). Should I follow Morgan Stanley? Pretty much everyone (BNP Paribas, Goldman Sachs, IIFL) in this article dated April 2019, expected Sensex to be around 42,000 by end of the year. Finally, another article dated June 2019 predicted Nifty to touch 13,000 by end of the year, which also came true. All of them were almost correct. Should I have done something with that information?
There were some outrageous claims as well that never got realized, like this one, just 6 months ago, which predicted Sensex to hit 50,000 by end of 2019. Err, that is a fail. But the most aggressive call I have read was that Sensex will hit 1,00,000 by 2020 according to this article and the prediction was made in 2014! If that were to come true, the market will have to rise by 150% with in one year. I would put my entire money in Sensex today :)
What are we to do then? My advice, just stay the course especially if you are in asset building phase. Don't worry what the market experts say or what the market is doing. Just have a plan and execute away. So if you are more than 7 years away from retirement, then your worry should be to figure out how to save more money, or increase your income or reduce your expenses. Then invest as much as possible according to your plan, like may be the 70/30 allocation. Close your eyes and ears to the market and media noise.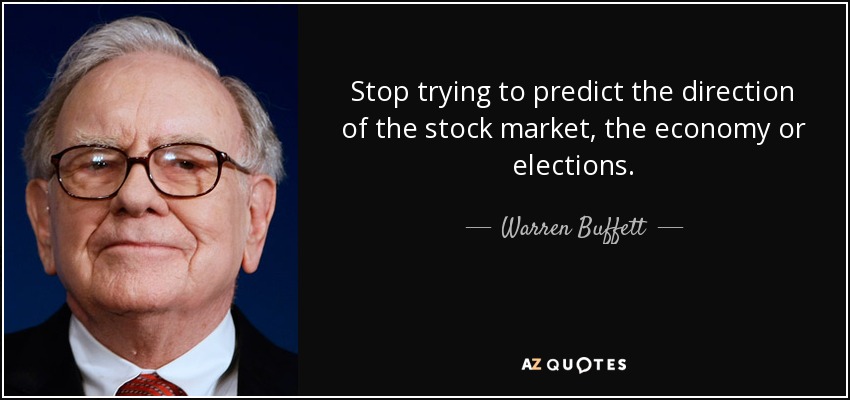 If you are close to retirement or in retirement, you don't have any more income to invest, so all you can do is rebalance your asset allocation if it gets skewed too much in one direction. You still follow your plan, but depending on the market, your allocation might have changed, so pull it back to where it should be.
I have been (and still am) stupid, expecting the market to cool down since early 2018. But nothing of that sort has happened. Sensex is having quite a bull run even as the economic indicators are showing a slow down. The economy and market are at odds and it is quite strange. The mid-cap and small-cap space seem to be valued better, but not great. So lets see. Where is that promised recession? I hope Berkshire Hathaway knows something. Am I worried? Not the least. This is what I expect the market to do -- expect the unexpected.
Leave a comment