Realme X Review: 3 Months Later
After a lot of research, I finally decided to buy Realme X although it did not meet all my criteria of a good phone. But after having used it for almost 3 months, I am really loving it in more ways than one. Here is a quick review of the phone in case some one decides to buy one. The 4 GB RAM with 128 GB storage flavor of the phone has an advertised price of Rs. 16,999 on Flipkart. But when I purchased it during the Diwali sale on Sep 30, 2019, it was available for Rs. 15,299 after discounts. Not the best deal because some other phones had deeper discounts especially if you don't care about the notch, but my heart was set on it, so went ahead and gifted myself one. It promptly arrived the very next day.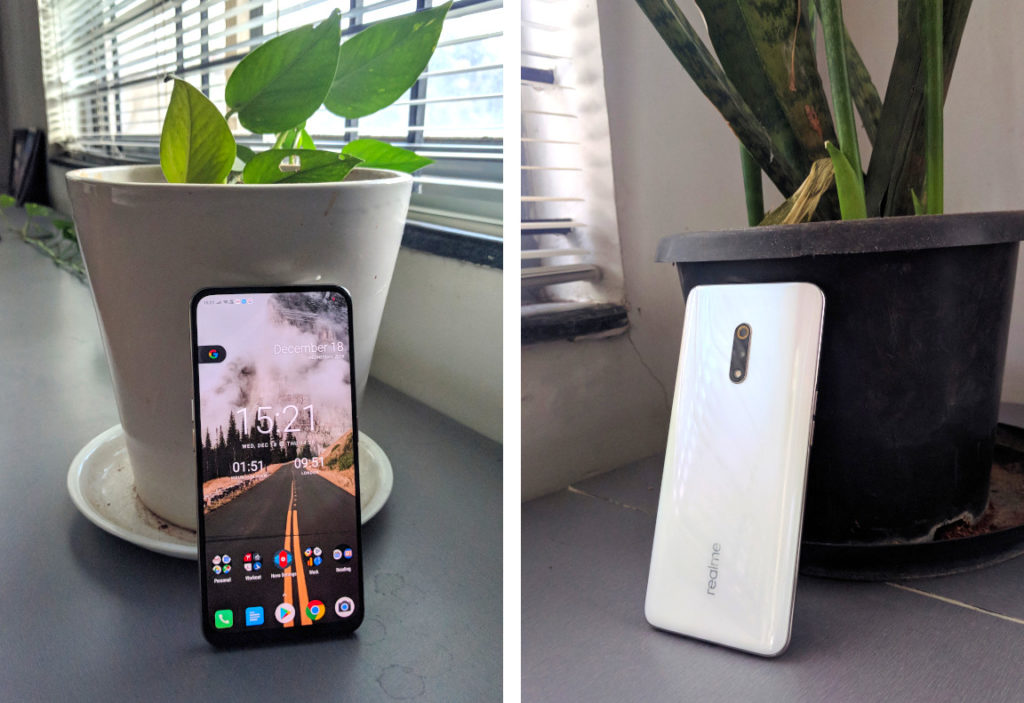 Build Quality and Specs
In the box you get a SIM ejector tool, average quality hard TPU case, a 20W VOOC fast charger with USB-C connector and obviously the device itself. The phone has a shiny plastic back which looks like glass. The side are plastic with a metallic paint. It gives you a premium look when you view it from a distance. It comes in two colors -- blue and white, but I love the white color a lot. It has a 6.53" AMOLED screen with a pop-up camera and an in-display fingerprint sensor. Screen has Gorilla Glass 5 protection and comes with a screen guard pre-applied. Runs on Qualcomm Snapdragon 710 processor fabricated on the 10nm process. I purchased the 4GB RAM version of the phone that comes with 128 GB UFS 2.1 storage. A 3,765mAh battery, dual SIM 4G, Bluetooth 5.0, Wi-fi ac, USB C and a 3.5 mm headphone jack. To round things off it comes with a 48 MP Sony IMX586 sensor paired with f/1.7 aperture.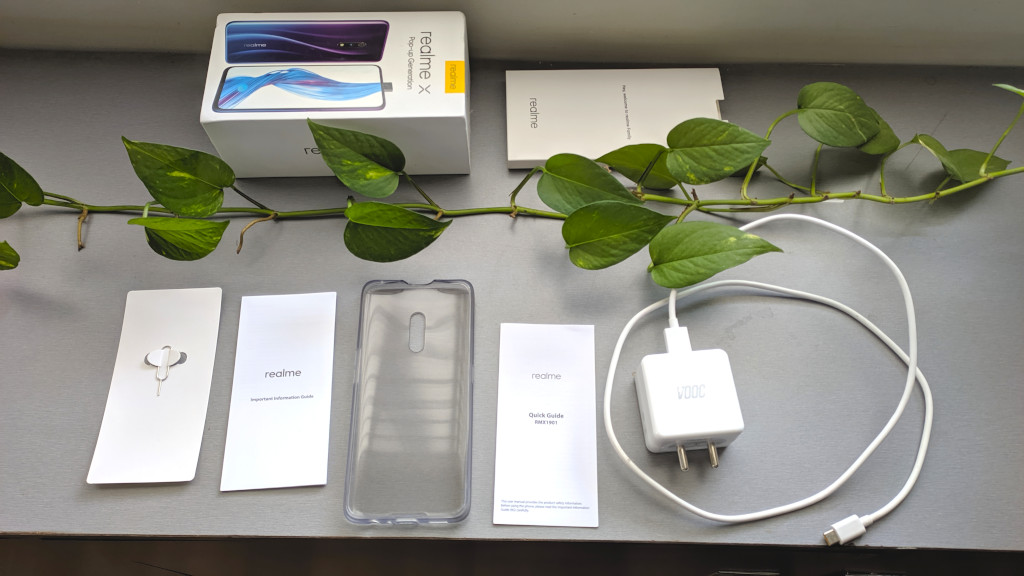 Like and Dislikes
I will give a brief update on the things that I like and dislike and go into a bit more detail on the things that I care. First the likes in no particular order.
Likes
The AMOLED screen is gorgeous with no unsightly notch. The colors are vivid and the blacks are inky black. I am anyway pampered with OLED screen on my Nexus 6p, so this isn't like a huge upgrade, but a big and almost bezel-less display takes it to a new level. The screen is calibrated to be a bit on the cooler side, but I promptly warmed it up. At 450 nits the display gets quite bright and is easily visible outdoors in direct sunlight. The screen becomes adequately dark in the night so it quite easy on the eyes even in pitch dark conditions. The sound is also incredible. There is depth in the sound, so the bass sounds good. It also feature Dolby Atmos if you care. Loud speaker is adequately loud and in call volume from the ear piece is also pretty good. There are no stereo speakers so it is not as immersive. Overall I am impressed in the audio and video department.
The UFS 2.1 storage is mighty fast, although phones are now coming with UFS 3.0 which is supposed to be twice as fast. Taking photo's, videos, installing apps or transferring data from a PC are so much faster compared to my old device. The processor while not the fastest, is more than capable in run everyday tasks. Switching between apps, scrolling, HDR processing, all are quite fast. I don't play any games on phone so don't need a very fast processor. I particularly appreciate the swiftness in HDR processing because my previous phone would struggle if I take multiple HDR photos. With this one, I can take as many photos as I want in quick succession and the phone works smoothly without hiccups.
I love the gesture navigation implemented in the OS. I can finally get rid of the bottom navigation bar on android so I can enjoy the apps with more real estate to spare. Never liked the fact that part of the screen at the bottom is just dedicated to the ever present navigation buttons. Simply swipe from the left or right for back and from the bottom to go home. Finally the USB type C is something that I really wanted. A micro USB connection in 2019 is simply not acceptable and yet many phones are still coming with it.
Dislikes
Coming to dislikes, the first one to come to mind is the Color OS 6. There is bloatware, but fortunately most of the apps can be uninstalled. UI is not great (notification drawer, launcher, settings etc). Some stock apps keep sending notifications which I promptly silenced and disabled. Looking forward to Color OS 7, but don't have high hopes. Planning to flash a pixel experience ROM once it is stable. Until then I have the nova launcher and it looks nice. Another problem with the OS is that it kills background apps quite aggressively. Even though the phone has 4 GB RAM and usually left with a lot of free memory, I routinely see the launcher or old apps loading from scratch. Thankfully UFS 2.1 is sufficiently fast for it to not be much of a concern.
The in-display fingerprint sensor is good, very fast and accurate. The only thing I don't like about in-display fingerprint sensors is that I have to turn on the display first and then scan my finger. In my previous phone, it was a physical sensor on the back, so as I remove it from my pant pocket, I could unlock. Saves time you know. Not much of a dislike or con, but just saying. Another minor issue is that the phone is a bit too big for one handed use. I prefer phones with around 6" bezel-less screen. Finally, I miss the metal body on my Nexus 6p. These days almost all phones come with plastic or glass body. Other than those, I have no other complaints with the device.
Battery Life
I am not sure if it is the 10nm processor or the aggressive memory management, or the AMOLED screen coupled with dark theme, the battery life is really good for me. I was initially apprehensive about the relatively small 3765mAh battery in the day and age of 5000 mAh or even 6000 mAh batteries (well Pixel 4 battery is joke, but that apart). I was pleasantly surprised with the battery performance. The phone easily lasts 3 to 4 days most of the times. One time it lasted only 2 days because I took a few photos and videos with AR stickers and navigated using Google maps. And a couple of times it lasted 5 days! Note that I charge overnight and use until battery is close to 10% before charging that night. Perhaps I fall on the lower end of those people who spend one-third of their waking hours on phone.
I never had to charge the phone in a hurry, but I am sure the 20W VOOC fast charger will come in handy when I do.
Photos
I don't take a lot of photos, and even when I do, I prefer to take photos of nature and not people. I almost never take selfies. I rarely use manual mode when taking photos, instead I like to just point and shoot. Just wanted to give an idea about my preferences because my opinions may be biased. Realme X comes with a 48 MP Sony IMX586 which has rave reviews for quality of the photos. I don't care much about mega pixels in a phone camera, but 48 MP is awesome! By default the sensor does pixel binning and you only get 12 MP photos unless you change the setting. I prefer 12 MP images because they come out much better. Finally I don't care about wide angle or telephoto or macro lens. So did not look for those quad camera phones that are all the rage these days.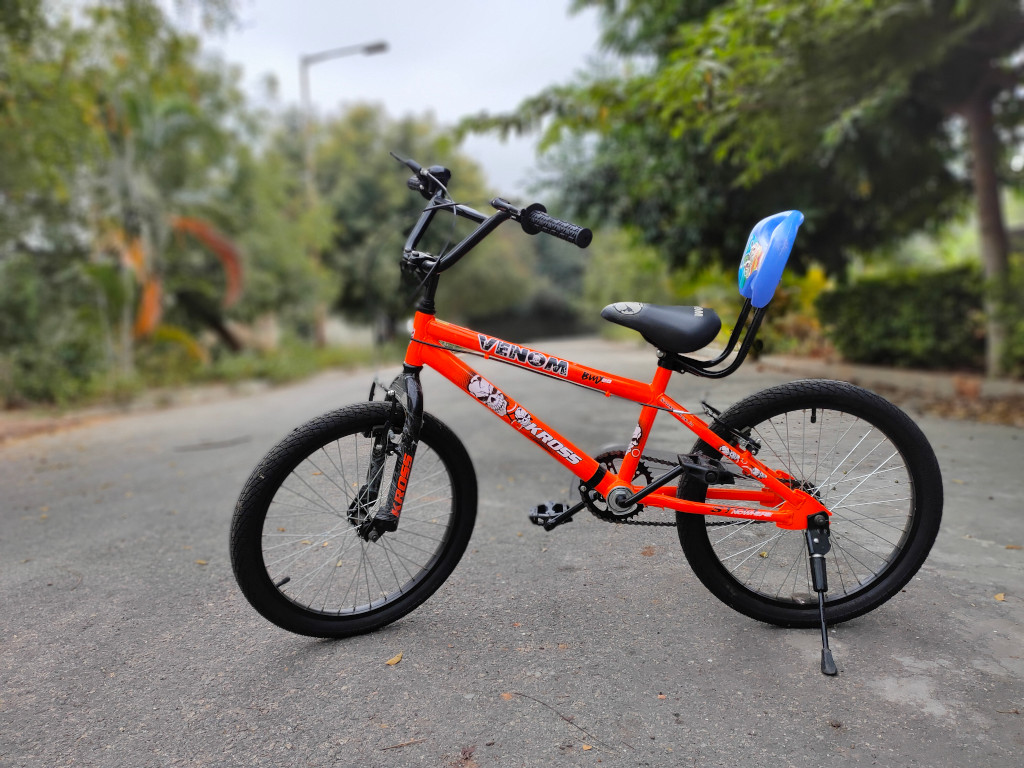 I am extremely satisfied with the photos taken by the phone in good lighting conditions. They may not be as good as the the Google Pixel or iPhone captures but still much much better than what my Nexus 6p could capture. By the way, I installed Google Cam on my phone because the low light photography is better with gcam as compared to stock camera, but for all other purposes the stock camera is as good. Color reproduction is excellent and the natural bokeh effect is beautiful if the subject is close enough. The dynamic range is also very good.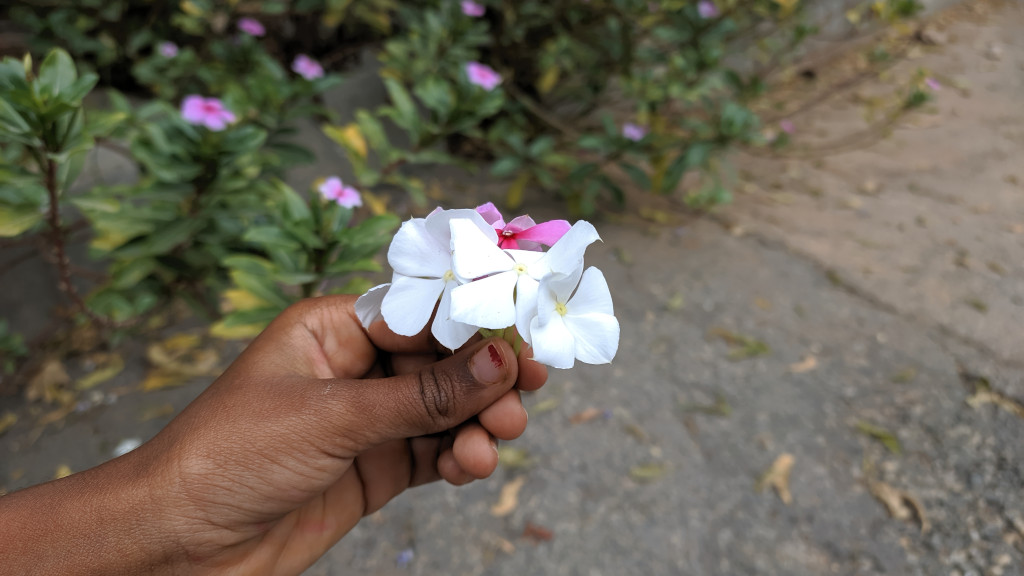 Where the phone impressed me even more is the nightscape photography. The following photo was taken when the sky and trees were dark to my eyes, but look at the quality of the image taken by the camera in nightscape? And I did not even use a tripod. Well done! Although this has more to do with the Sony sensor than Realme X.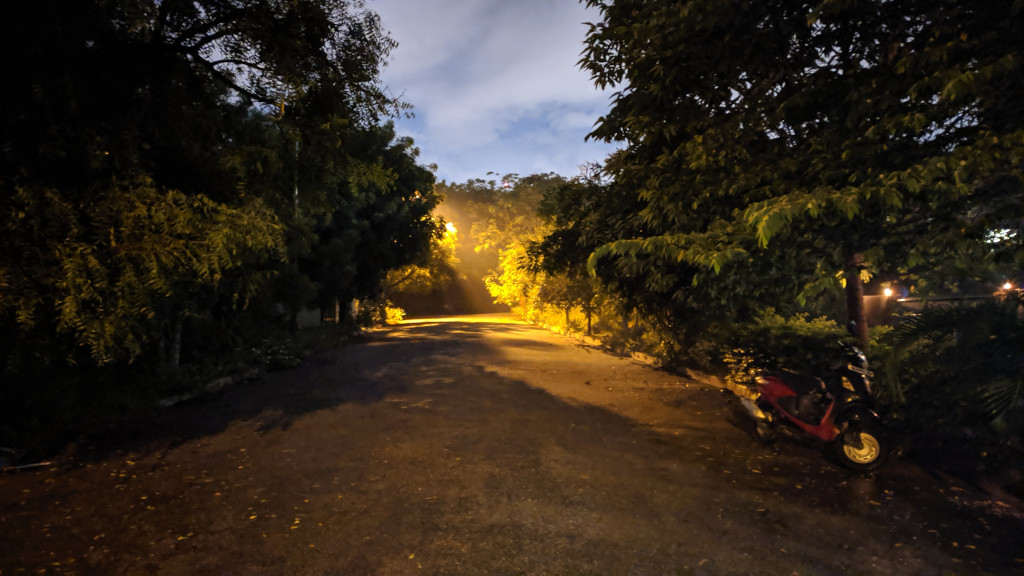 Durability
The phone came with a screen guard pre-applied. I don't like any screen guards on my phone. The screen should be as uninhibited as possible, so I promptly peeled it off and now it looks much better. The screen has Gorilla Glass 5 protection so it should be able to handle some abuse. A fair warning though, without the screen guard your phone is more prone to scratches, so be careful. You cannot throw your keys and the phone into the same pocket and expect nothing to happen. I am usually careful with the phone yet I see two very light scratches only visible at a certain angle and if you look for them.
I never use a phone case and I am not going to change that behavior any time soon. The phone fell down some 5 times or so from a height of 2 to 3 feet and the screen did not shatter. Happy with Gorilla Glass protection. Although most of the time the phone did not fall on the edge, so I was lucky.
Summary
There you have it. My 3 months experience with Realme X. Glad that I did not go for a cheaper phone and buy a dedicated camera. Phone cameras have come a long way and it is amazing the amount of value you get for Rs. 15,000 if you are not going for the high-end specs. Technology should be an enabler and help you do things faster and/or better without wasting your time and this phone certainly lived up to the hype. Have to see how long it will last and not become obsolete in the face of ever changing technology.
If you are looking to buy a mid-range phone and have a slightly different requirements, then you can checkout these extremely awesome phones that I had my eye on but could not buy because they might have not met certain criteria.
Leave a comment