Update On Franklin Funds That Are Winding Up
It does not seem like the problems with Franklin are going to end anytime soon. They are in news everyday for some reason or the other. The first issue I can see is that the investors will not receive any money in May. The reason? Franklin has not yet started the voting process. And until that happens I don't think they can return anything to the investors. If you recall, I was hoping Franklin will return something in May.
However, all hope is not lost. Franklin has started the voting process. Hopefully we will get something in June. Please make sure you have updated your email with Franklin to be able to vote. Also, vote for Franklin to do the liquidation process if you want to maximize your returns. They have always acted on investor's interest. They may have taken some risky decisions, but have generally handled issues in a way that benefits the investors.
Franklin appointed Kotak Mahindra Bank as a Trustee to help them liquidate the papers. This works out only if majority vote Franklin to do the liquidation process. Otherwise Deloitte will handle it. The voting will happen from 9 am on June 9 to 6 pm on June 11, 2020. Do cast your vote.
How to vote?
When you open the e-voting page, you will be asked if you approve the winding up of the fund. Please answer "yes" to this question. Answering "no" will not stop the windup process and will delay the liquidation. It will take much longer for you to receive your investment.
Next, you have to choose whether you want (1) Franklin (AMC) with the assistance of Kotak Mahindra Bank (the trustee) or (2) Deloitte, to handle the liquidation process. I strongly suggest that you choose AMC with trustee (option 1). That way, Franklin will handle the liquidation and we will continue to get regular updates as it is happening now. Also, Franklin know its papers well and will try to give us the best value.
There will also be a Unitholders Meeting on June 12, 2020 from 9 am. It will be a video conference call. Feel free to attend, but Franklin mentions that due to IT infrastructure limitations they may be able to handle only 2000 participants.
In other news...
There are a lot of other news on Franklin too. Like the one about Franklin Templeton MF's investments in YES Capital, coming under the glare of the Enforcement Directorate. Or how about the news that Vedanta is delisting and Franklin is holding a huge percentage of Vedanta debt papers. For example Franklin Ultra Short Term has 11% exposure. The credit rating of Vedanta has been downgraded to AA-. And if that was not enough, you must have heard about the news where Franklin inadvertently sold ICICI Bank securities which have not yet matured. Or the news of Essel Infraprojects not able to meet the maturity obligation? There is also the default by Future group. Don't forget about the notice from Madras high court.
It is too early to say how many of those mistakes will result in loss for investors, but at least for now, there is nothing to worry. We might know more when Franklin sends out the month end portfolio holding. As of now, the NAV has not been affected.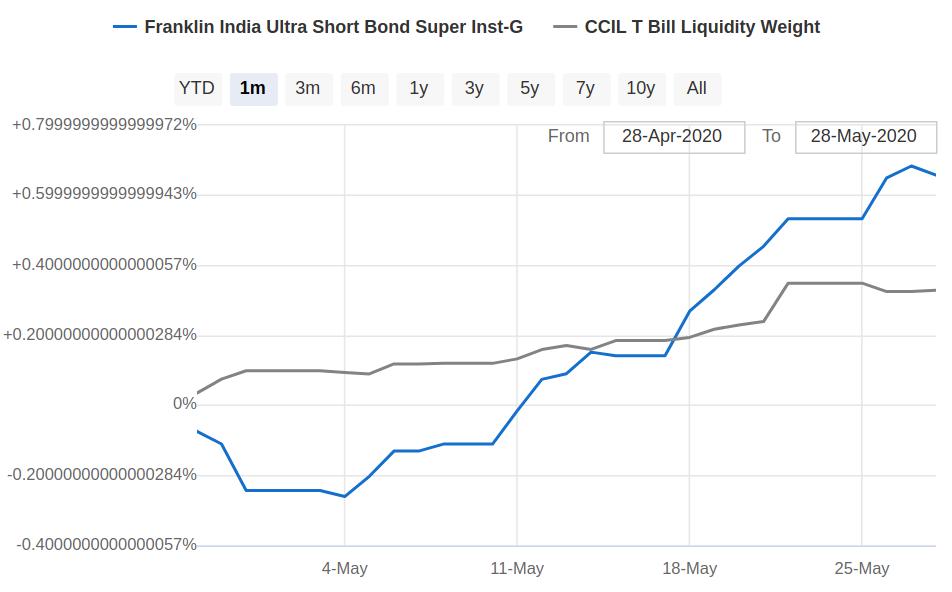 It will be interesting to see what happens to Franklin Ultra Short Term Fund's NAV after today (May 29, 2020). Because today, Piramal Enterprises papers mature and we have to see if the maturity obligations are met. If that happens, the fund would be able to get rid of all the liabilities and will have some money to pay back to the investors.
Leave a comment