How Much Do I Make From Ads?
This is sort of a continuation of my previous post -- truth about my passive income. Over there I mentioned that I have recently started showing ads to offset some of the expenses of running the blog. And I promised a follow up post explaining the costs and how much I am earning from ads. So here it is. I will try to keep it short because it is probably not relevant for you.
Expenses of running this blog
First let me go over the expenses. I am running this blog on a Google Compute Engine instance, henceforth to be known as GCE. It has a generous free tier which should be sufficient for a small blog like mine. I was getting charged around Rs. 30/month. In addition, I also purchased a domain, which costs me Rs. 860 per year or about Rs. 70/month. So I really did not need ads initially. Then Google started adding a new line item to the GCE expenses which pushed me to start showing ads. Below is one example of my monthly GCE expenses.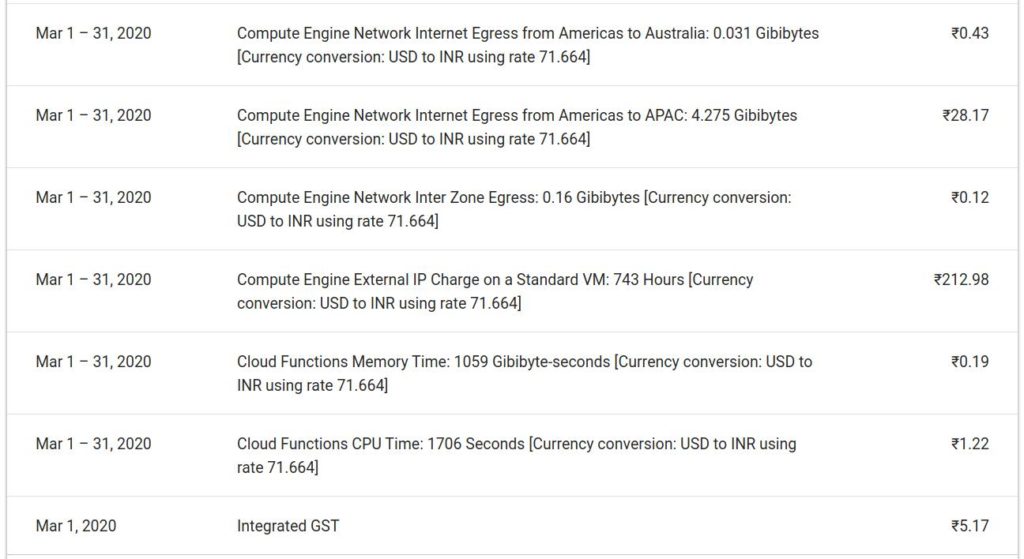 You will notice that there is a line item of Rs. 212.98 for external IP. The rest of the expenses have always been there so that was not much of a concern. Now my expenses went up from Rs. 100/month to Rs. 350/month. Not complaining, but it made me wonder if the cost will continue to keep going up. So I decided to show ads to offset some of my expenses.
How are the ads performing?
It was a difficult decision to run ads because on the one hand I wanted to keep the blog clean, and on the other hand I did not want to foot the bill. I disabled all sorts of annoying ads like anchor ads and vignette ads as you can see below. Removed a bunch of ad locations which I felt were too aggressive (like the header ads). Set the number of ads to about 70%.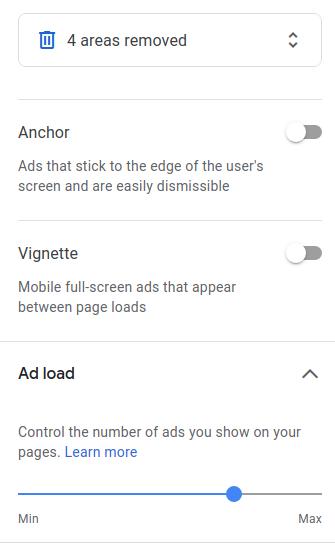 Google ads settings
In addition, I know I don't have enough traffic, so I was not expecting a lot of revenue on ads which turned out to be true. Here is the latest ad report and I made about $1.03 in all of last month which is about Rs. 70/month. Or about 20% of the cost of running the blog.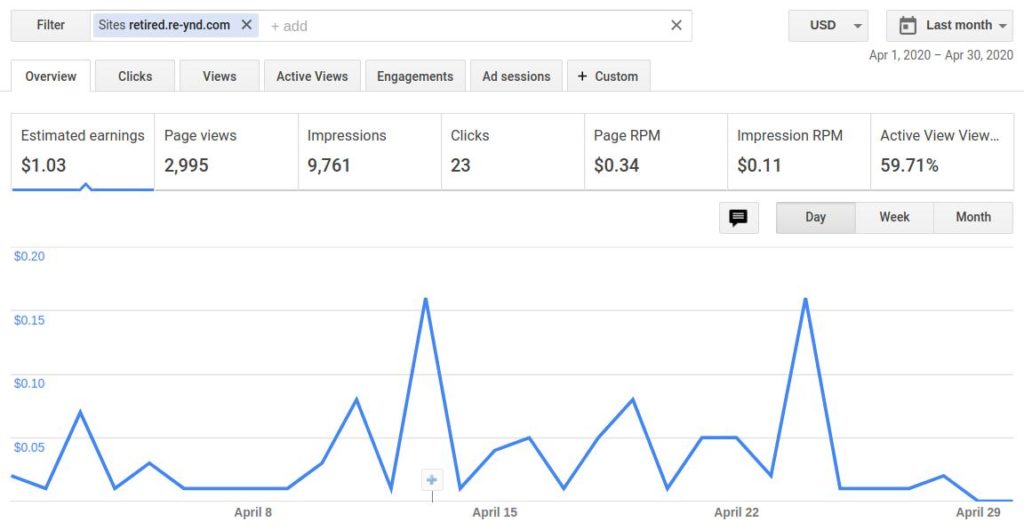 Moreover, the payment will not be made until I accumulate $100 in the account which means it will take some 8 years! Then I started to wonder if ad blockers are to blame, so I started tracking them recently (see analytics chart below). It looks like some of the users have ad blockers installed. Not sure how much they are hurting the ads, but I don't think it would be much.

What can you do to help?
The point of this exercise is to give you details about my ads experiment and nothing else. But if you'd like to support the blog, please consider doing the following --
I know you are probably already doing this, but consider sharing the blog with others. Don't send it to everyone in your contacts though. It will just be spam :). Send to those who might find it useful.
Consider whitelisting the blog in your ad blocker if you think I have earned it. Of course, I do hate ads as much as you, so feel free to ignore the request.
That is the story so far. If things change, I will surely let you know.
Leave a comment