Early Retirement, Home schooling and Organic Gardening
A few readers of the blog and myself met in Bangalore on March 14, 2020. This was the first time I met my readers with whom I had no prior interaction with. I was a little apprehensive about the meeting, but it was a great learning experience for me. I am not sure if I was helpful in answering their questions, but they helped me understand how like minded we all are. I found it interesting that not only do our interest in early retirement match, but also that we have similar thoughts or ideas about home schooling and/or organic gardening/farming. Before talking more about what happened in the meetup, first a quick word on how it all started.
Genesis
Let me start from the beginning. Initially I was not planning on any meetup. I never had that idea. But one day a reader sent a message that he would like to meet me since he was in Bangalore too. Since he lived quite far, I thought if I am ever driving by that location I can meet him. A few days later another person wanted to meet and he said he can meet me anywhere. The idea of a meetup then came to me. Why not help fellow readers? I sent out a post to see if more reader would be interested to meet so I wouldn't have to meet each one individually. That was the genesis.
The Funnel
I did not expect a big turn out, but if I can have 5 people, I though it would be worthwhile. I left the post up for 10 days. Slowly some interest was generated and 13 members signed up. I knew that not everyone can make it to North Bangalore (where I reside) because of horrendous Bangalore traffic. I did not want to drive to the heart of Bangalore for the same traffic reason. Perhaps in another meetup I should put some effort and drive there :)
I sent out emails to all the folks regarding the location (North Bangalore), date (March 14) and time (4:00 pm). Of the 13 sign ups, 5 responded with yes. One person with a +1 too. Eventually on the day of the meetup, 3 readers +1 showed up. Given the COVID-19 fear, I think it is a good turn out.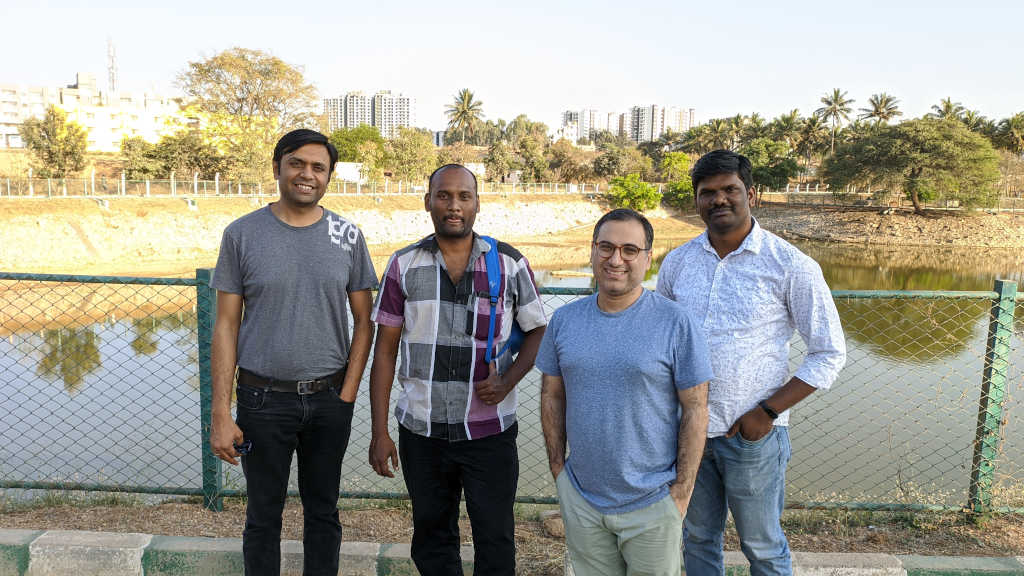 Topics
A lot of topics discussed during the meetup actually turned out to be not so much about early retirement but about home schooling! This tells me that I probably need to write a few posts on the topic of home schooling or rather our unschooling journey. Some of the questions that I remember include
Q: Does 4% rule really work?
A: Yes, I am the living example. I am retired for less than 2 years, so lets see.
Q: Why did I quit?
A: You know why :)
Q: What is retirement according to me?
A: It just means you don't need to work for money. You work when you feel like it and for the cause that you believe in and it gives you happiness. You can be as busy or as free as you want and are not constrained by project deadlines, long commutes and daily meetings. One day you may be working until your body hurts, the next day you may be working until your brain hurts and the very next day you may be sitting in an easy chair watching the birds and drinking a cup of hot chocolate.
Q: Would I go back to work if there is something interesting?
A: If there is such a job that would meet the criteria above then sure ;) but most likely no
Q: Interested in NGO which might pay?
A: Nope, unless again see above
Q: Sources of income
A: Just my debt and equity mutual funds and nothing else
Q: My daily routine and if I get bored
A: Daily routine here. Not bored, and you know why
Q: Did I ever think of going back to work?
A: Have been in retirement for less than 2 years, and not once did I feel that
Q: How hard was it to convince parents and wife?
A: Not too difficult
Q: Did it ever bother that people are buying better things or going on expensive vacation and you cannot because you retired early?
A: Not the least. I am a minimalist and and I thoroughly enjoy it
Q: Did I think about moving back to US?
A: No, I moved to India for family reasons and that is how it will stay
Q: Why do you prefer staying in Bangalore?
A: I like the convenience of technology (uber, swiggy, big basket and what not) and the weather is just great!
Q: I found your blog while searching for organic gardening, I also know that you completed rain water harvesting, what is the next project?
A: Hopefully solar panels
Q: How are you managing home schooling?
Q: How will the kid learn?
Q: What do you teach your daughter?
Q: Will you ever put her in school?
Q: How do you track her progress?
Q: What if she needs a 10th certificate?
Q: Will universities accept home schooled kids?
Q: How will they learn social skills?
Q: Did your daughter want to go to school?
Q: How did you convince your wife and parents?
Q: Reasons for unschooling?
A: Wait for some blog posts answering them
There were some other conversations and discussions too. About organic gardening, how I happened to buy the house I live in, home schooling, and their personal experiences of work and related topics. Anyhow, it was a very worthwhile meeting for me and well worth the time I spent. Thanks to everyone who came and hopefully I will have another meeting sometime again. One of the 13 readers who signed up suggested a monthly meetup, another suggested a meetup of once a quarter. I really appreciate your interest! Will try my best and lets see :)
Leave a comment