Goodbye Alto, Welcome Ignis
This is the continuation of my previous post on buying a new car. As we established, I decided to buy a new car instead of an used car. The reasons are mentioned in my previous two posts. After having shortlisted a few interesting new cars, I test drove a sample from each manufacturer that I was interested in. In the end, I kept coming back to Maruti cars for one big reason – the engine. Of course, the main reason that only Maruti came out on the top in engine quality and not the other Japanese brands like Honda or Toyota is because I excluded them as they did not fall within my budget. If you didn't already know, I kept a strict budget of Rs. 6 lakhs for buying a new car. I will get into the reasons as to why only Rs. 6 lakhs in my next post.
Only four manufacturers fell within my budget, which were Maruti, Hyundai, Tata and Renault. Within those manufacturers, given my requirements, I could only choose Maruti, Tata and Renault. Once I test drove them, the first thing I noticed was the refinement of Japanese engines. The Maruti cars, even for their budget segment, have absolutely great engines. There is very little noise, vibrations or harshness (NVH).
After having shortlisted some cars purely based on on-road price without considering any discounts, I test drove some of them. Then, I updated my spreadsheet with whatever discounts they were offering plus the price they were willing to offer for my old car. Finally, I reduced the list from 9 cars to 4 cars. This is the updated spreadsheet.

Click to enlarge
Out of all the Maruti cars I test drove (Wagon R, S Presso and Ignis), I liked Ignis the best. Not only is the engine quieter than the others but it is also peppier. It is a very rev happy engine and accelerates as soon as you touch the pedal. Has good space and all the features we were looking for. However, the thing I did not like are the suspensions. Eventually, I decided to go with ignis anyway. Now the trouble was with the variants.
We liked the zeta variant because it has alloy wheels, 7" touchscreen infotainment system, 6 speakers (instead of 2), rear defogger and wiper to name a few when compared with the delta variant. So what is the problem? Why not just take the zeta variant? Well, it is the price. It went over budget and I really had a very hard limit of Rs. 6 lakhs. The reason for the hard limit is because I know we will add some accessories which will add to the cost.
I got offers from a couple of Nexa dealers, and both offered similar discounts. With all the discounts applied, and after exchanging my old Alto car, the price of zeta variant was coming out to Rs. 6.37 while I could get delta variant for Rs. 5.80 lakhs after some tough negotiations. After much back and forth with mrs. reynd, I thought of going with delta variant and buy some good after market touch screen infotainment system. That was the main thing we wanted because it makes navigation easy. The only decision left was color.
I generally prefer light colors because it will keep the car cool when left in the sun. However, too light a color like white would require more care and cleaning. Normally, I go with silver color. All 3 of my earlier cars were silver if you wanted to know. But we decided to visit a showroom to check out the colors in person in case we are missing out on something.
So far we have not visited a showroom, because all the test drives vehicle came to our door step and the negotiations happened there, as well as the exchange price estimation of my old car. For once, we casually went to a near by showroom without any plan except for checking out the colors. After seeing all the colors we (mainly me) eventually decided on silver color. We could have made that decision sitting at home. What a waste of time. Or is it?
It turned out, visiting the showroom was the best thing that happened. The sales exec wanted to really sell a car that day it seems. I told him that I already talked to a couple of other sales reps and not interested in one more negotiation. The sales rep insisted on a discussion and asked me my requirements. Right away I said that I was looking for Ignis zeta variant for under Rs. 6 lakhs after exchanging my car. He sent out a person to check my old vehicle and after applying all the discounts he offered a price of Rs. 6,17,855 which includes extended warranty (for 5 years) and all the basic accessories.
I asked him to reduce the insurance and also told him to transfer 50% NCB from my old car insurance. Then I asked him to remove all the basic accessories and selected only the ones that we really wanted. At this point the total cost came to Rs. 6,07,918. I was really excited. It is almost close to my budget of Rs. 6 lakhs! We told him that we will think it over and let him know in a couple of days and proceeded to leave. Then he said he wanted to talk to his manager and see if he can get any more discounts. Then he came back and said that he will offer another Rs. 7,000 off if we book the car right away. That will bring the price to Rs. 6,00,918, a round figure of six lakhs! Now I am wondering if I should have negotiated even harder ;).
Anyway, here are the full details for your reference
| Item | Price (Rs.) |
| --- | --- |
| On road price | 8,14,755 |
| Old vehicle | -1,40,000 |
| Exchange bonus | -15,000 |
| Consumer offer | -30,000 |
| Suzuki connect | -11,900 |
| Insurance discount | -6,000 |
| Remove base accessories | -10,959 |
| Accessories | 8,877 |
| Special discount | -7000 |
| Total | 6,00,918 |
We went from Rs. 8.15 lakhs to Rs. 6.01 lakhs. That should tell you, how much mark up these vehicles have. The accessories we took were PVC designer mats, boot mat, leather steering grip and reverse camera. Later, before taking delivery, we added seat covers too which cost us extra Rs. 7,000. The happiest thing for us was the price we got for our old car. Three people evaluated it. One offered Rs. 75K, another offered Rs. 85K initially and later revised it to Rs. 90K. But this particular showroom offered Rs. 1.40 lakhs. We eventually booked the car and it arrived a couple of weeks later.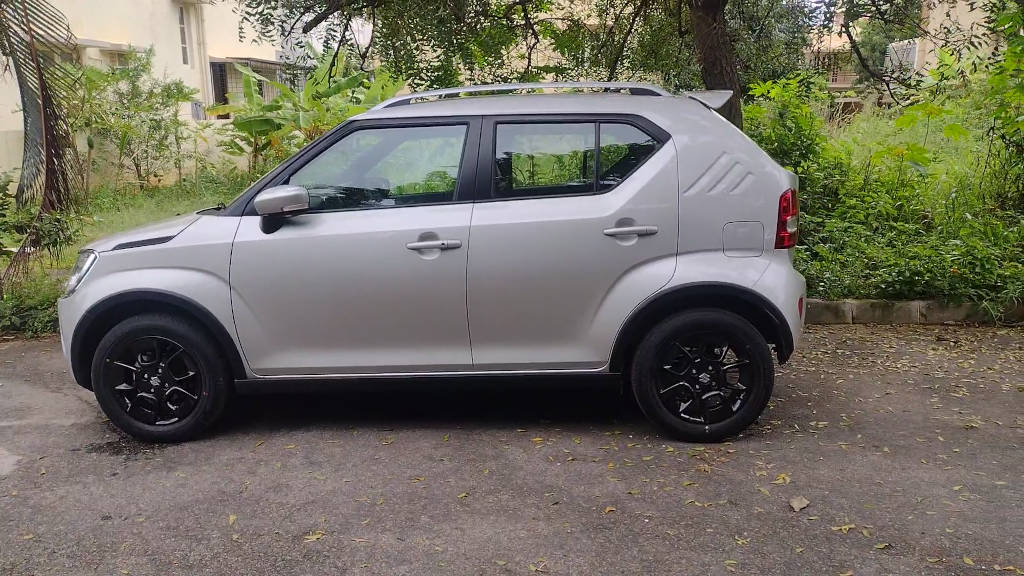 Welcome Ignis!
So if you are looking for a new car, try multiple showrooms and better yet visit them in person at the showroom instead of negotiating at home during a test drive. That is the story of our new car. In the next post I will explain how we funded the purchase of this car and what it did to our expenses, corpus and projections. Meanwhile, our Alto served us really well for almost 12 years and we miss it. Goodbye Alto!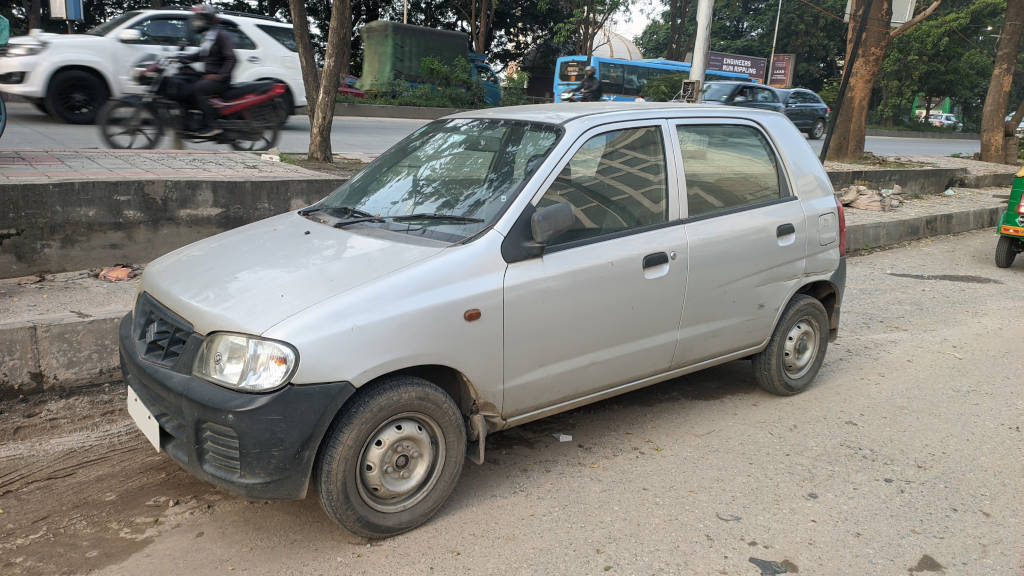 Goodbye Alto!
Leave a comment